Jakarta : Welcome to Jakarta, the dynamic capital city of Indonesia, and truly a "meeting place" of representatives from throughout the archipelago. The so-called megapolitan is a charm for Indonesians, both as a businessband a government center, as it is the most developed city in Indonesia. Dubbed The Big Durian, an equivalent to New York's Big Apple, its concrete jungle, the JTown has cheerful nightlife, vibrant shopping malls, a variety of foods, refreshing greenery, cultural diversity and a rich history, that caters to all levels of budget and how much fun you want to have. Served by the Soekarno-Hatta International Airport and Tanjung Priok Harbor, Jakarta is also connected by several intercity and commuter railways, and served by several bus lines running on exclusive reserved highway. The city is the home of many Hotels, Shopping Malls and Restaurants which serves international cuisine or regional dishes from the archipelago, ranging from exclusive restaurants to road-side stalls to satisfy everyone's taste.
Bali : Among the more than 17,000 islands in Indonesia, Bali still shines the brightest in terms of tourism. There are countless other tropical destinations, but for millions of tourists each year, this fascinating island is the favourite. Beyond stunning beaches and magical temples, Bali has virtually every kind of natural beauty. Glorious mountainous areas with lush greenery, scenic lakes, gorgeous waterfalls, iconic rice fields, flower gardens, gushing sacred rivers and secret canyons all make up the island's landscape. Also known as the Land of the Gods , Bali's beauty goes way deeper than its beautiful appearances. The island is also home to many traditional cultural traditions that are still practiced. Bali enchants with its dramatic dances and colorful ceremonies, its arts, and crafts, to its luxurious beach resorts and exciting nightlife.
Jakarta : Le Meridien Jakarta
Luxury awaits in central Jakarta. Experience the vibrant energy of Jakarta, Indonesia, from Le Meridien Jakarta. Originally a fifth-century Hindu settlement on the banks of the Ciliwung River, Jakarta is the capital city of Indonesia and provides a gateway to the country's culture and history. Our beautifully designed luxury hotel boasts exceptional service and an ideal location in central Jakarta. Enjoy easy access to historic destinations, shopping malls and the Jakarta Convention Center. Return to our hotel for our spa, fitness center, indoor-outdoor Club Lounge and on-site restaurants and bars serving international fare and specialty cocktails. If you're visiting central Jakarta for a business or social gathering, take advantage of our hotel's versatile meeting venues, which boast advanced technology, free Wi-Fi and space for up to 200 guests. Afterward, retreat to a spacious hotel room with a modern bathroom for a good night's rest. Look forward to an exceptional hotel experience at Le Meridien Jakarta in Indonesia.
Bali : The Seminyak Beach Resort and Spa
Setting the standard for high-touch hospitality on the Island's most glamorous shores, our elegant Seminyak Resorts and Villas in Bali provides a welcome escape from the outside world. Here, scenic seaside beauty and laid-back luxury converges to define an enticing, independent brand of pleasure that will beckon you back, year after year.

Find our Seminyak Resorts in the heart of Bali's hub for all things bright and beautiful. A vibrant, sophisticated neighborhood brimming with world-class restaurants and beach clubs – including the internationally famous Kudeta next door to the Resort – barefoot beach bars and slick cocktail lounges, market stalls and chic designer boutiques. The pleasantest place with a pulse after the witching hour, Seminyak in Bali has long been the glamorous playground of bohemians, jet-setters and fashionistas. The expansive Seminyak Beach presents a busy, buzzy atmosphere, glorious coastline views, celebrated surf breaks and sensational sunsets.

Bali is the all-in-one, something-for-everyone destination. Nowhere else in the world can compete with its diverse and dynamic culture, rich history, deep-rooted traditions, smiling people and flower-scented festivals. Combine this with Bali's beautiful nature of endless beaches, lakes, mountains, rice terraces, rivers, and tropical rainforests, and your only dilemma will be deciding what to do each day.

Hall For National Costume Competition, Preliminary Competition and Grand Final
SENTUL INTERNATIONAL CONVENTION CENTER
Sentul International Convention Center is a convention centre located south of Jakarta. In the modern fast growing Sentul City. Just exit the Jagorawi Tol Road which will soon be supported by an LRT system it will be the perfect choice to host you event. Rested on 6.4 hectares an even bigger parking space the main hall is able to seat 11.000 people and 2000 rooms of its own and just neigbours with the Harris Hotel it is more than able to host attendees from all over the world.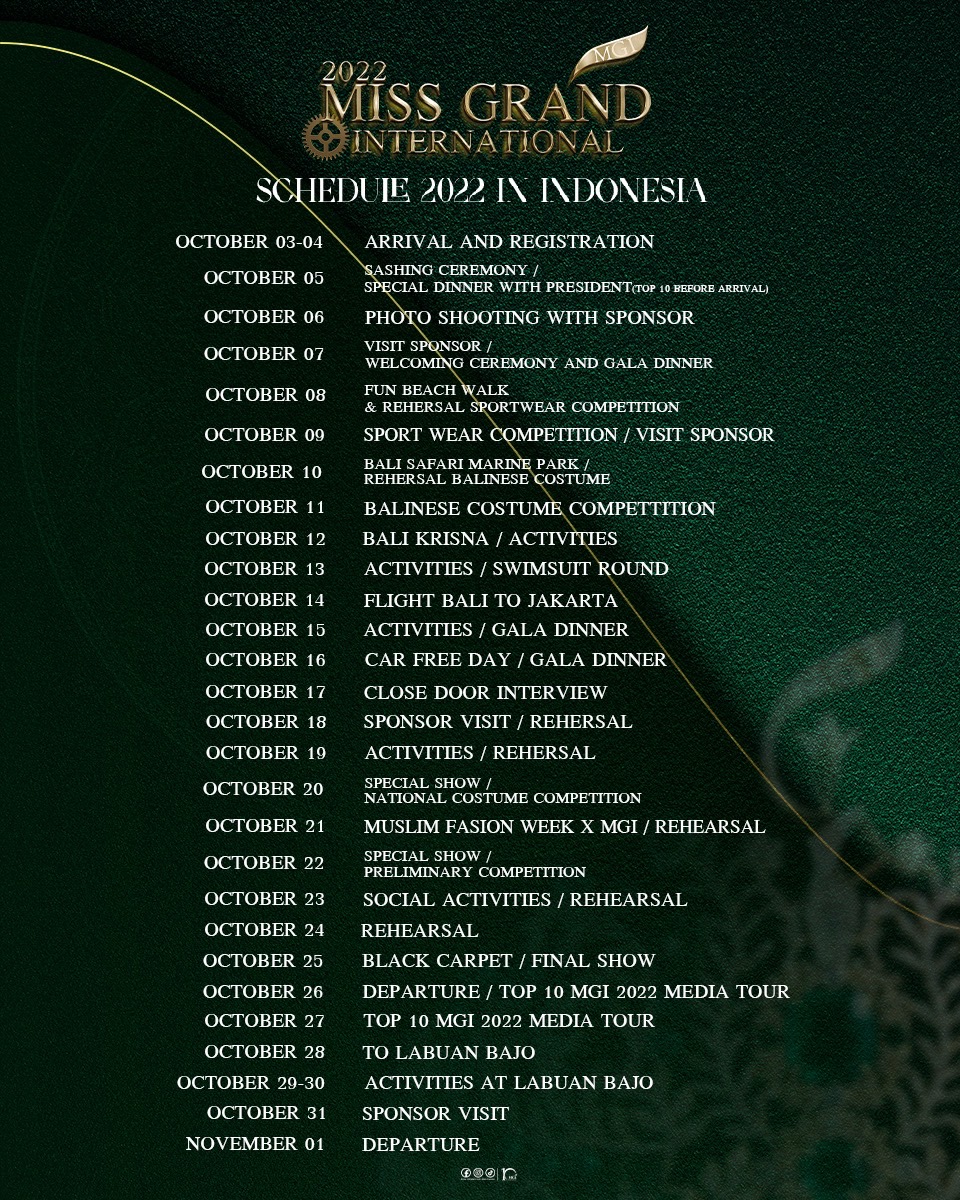 Miss Grand International 2022
Schedule
Official Contestants Arrival and Registration
MISS GRAND INTERNATIONAL 2022 in JAKARTA x BALI , INDONISIA
MISS GRAND INTERNATIONAL 2022 SHOW
𝗦𝗽𝗼𝗿𝘁𝘀𝘄𝗲𝗮𝗿 𝗖𝗼𝗺𝗽𝗲𝘁𝗶𝘁𝗶𝗼𝗻 at Bebek Tepi Sawah Bali, Indonesia
National Costume Competition – MGI2022
𝗕𝗔𝗟𝗜 𝗔𝗚𝗨𝗡𝗚 𝗧𝗛𝗘 𝗚𝗥𝗔𝗡𝗗 𝗦𝗛𝗢𝗪 live from Bali Safari theatre.
𝗣𝗿𝗲𝗹𝗶𝗺𝗶𝗻𝗮𝗿𝘆 𝗖𝗼𝗺𝗽𝗲𝘁𝗶𝘁𝗶𝗼𝗻 – 𝗠𝗚𝗜𝟮𝟬𝟮𝟮
FINAL SHOW – MISS GRAND INTERNATIONAL 2022
Criteria for consideration of Miss Grand International (MGI) contestants
Miss Grand International Organization will holistically consider the contestants qualifications including various movements from the moment of winning the national crown as a representative of the country until the moment before entering the official beauty pageant and until day 1 when the representatives of each country register to prepare for the beauty camp leading to do activities with the Miss Grand International Organization. This can be considered that the Miss Grand International Organization will start scoring the contestants from the first day until the Final Show, the end of the pageant. The Miss Grand International Organization considers the contestants based on a typical Miss Grand International style, that is, they must qualify "Beauty with Readiness", which means that besides being beautiful, the contestants must be ready with many other elements in terms of personality, a beauty queen body figure, the confidence like a model, dressing, knowledge, attitude, communication skills including the presentation of a unique identity that is outstanding and different from other contestants. In addition, they should be able to take care of their own overview looks and be a good role model for society and the new generation. Moreover, they should have all-round abilities; both talent in the entertainment industry, ability as a public figure who can speak and present things effectively without any harms to themselves, to the organization and others as well as being flexible with working as a "Public Person." Most importantly, they can be able to work on their own, use their own ideas to work, can take care of themselves and always be ready from head to toes including putting on make up, doing hair and doing everything in its entirety in order to truly answer the questions of being Miss Grand International. Therefore, the Miss Grand International beauty pageant is considered to change and write a new page of the beauty pageant's history. These all elements make the beauty pageant exciting, provocative, attractive, and unique and create the entertainment at the World Class level and the only international beauty pageant looking for a beautiful woman who has a complete set of 3 B's (Body, Beauty and Brain).
Miss Grand International beauty pageant consists of an important show format divided into all 5 events as follows:

4. Preliminary Competition is a competition where contestants can demonstrate their abilities to walk and perform through various costumes, such as swimwear, short evening dresses, long evening dresses as well as one-by-one self introduction so that the audiences can see the performances of representatives of all countries.

5. Final Show is a show that focuses on performances and the story lines of the show which are concise, fun and exciting including the winner announcement session which will be considered the most complete show. The highlight of the Miss Grand International (MGI) beauty pageant is a real showcase of acting potential from the contestants themselves through various performances such as opening dance that comes with unique introduction, swimsuit show, speech delivery, long gown walk and crowning moment without any other artists' performances which is considered the strength and highlight of the Miss Grand International (MGI) beauty pageant. In addition, during the pageant, there will be a session called the Close Interview Session that will score the contestants from each country through an interview conducted by the President of Miss Grand International Organization and the judges committee to get to know the contestants in terms of their thoughts, attitudes, personality and knowledge.
WELCOME CEREMONY PREE CONFERENCE